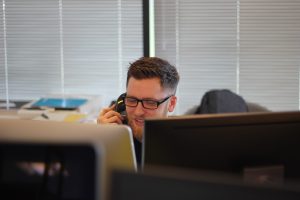 For a business looking to scale, an IT Help Desk can alleviate service errors and application downtime without resorting to on-site technical support. Our IT Help Desks provide the assistance of our most senior tech personnel. With a team of experienced and certified engineers, coming to an IT solution need not be a nightmare. 
The Benefits of IT Help Desk Support
In an ideal business landscape, every manager should be able to solve technical problems in-house—but this simply isn't the case. By enlisting the aid of Atrema's IT Help Desk, you'll enjoy the following benefits. 
1. On call Support
Achieving technical fixes is a two-component process. First, you'll need a reliable expert to get the job done. Second, you need time—something most companies don't have much of. With an IT Help Desk, you reduce the risk of downtime with expert point persons who can tackle technical problems as they come. Your days of workplace crankiness will be long gone before you know it.
2. On-Site and On-Time
If you're working with our Calgary based Help Desk, on-site support is no problem. Otherwise, an immediate response time makes troubleshooting software needs quick and easy. Simply hop on a video conference or telephone call. 
3. Focusing on Bigger Tasks
By eliminating internal technical service requests, employees can focus on strategic tasks without dealing with hardware issues themselves. If you're often encountering complex system errors, working with our IT team rich in diverse credentials can keep from disrupting your workflow.
4. Spotting Problems Before They Occur
To the untrained eye, desktop latency or a glitch in the system may not look like a big deal. To our Help Desk engineers, this could indicate a more significant problem. By identifying the root cause of recurring issues, service providers can prevent them from returning. 
5. Additional Tools
Our Help Desks don't just exist to alleviate problems as they occur. Atrema will provide your business with a strategic advantage by incorporating the right tools for security and prevention. If you're employing an internal IT staff, outsourced teams can provide additional support as needed. 
6. Boosted Efficiency
Bug fixes and the like can take time away from tasks that matter. By leaving the problems to the professionals, teams can focus on more efficient ways to generate revenue, retain clients, and grow your business. The stronger your technology infrastructure, the less likely you are to run into errors. As such, an IT Help Desk can inadvertently boost efficiency and increase your ROI. 
Conclusion
A quickly-evolving IT environment doesn't make it easy for even the most competitive businesses to adjust. However, with the currently-available technology at hand, growing companies can eliminate stubborn birthing pains. Achieving operational efficiency is an amalgamation of experienced staff and outsourced help. 
For managed IT support in Calgary, give us at Atrema Tech a call. Smart and functional technology is no longer "just a bonus." With our services, your systems and networks can run all day smoothly without having constant errors and interruptions.